Welcome to the Jungle
Welcome to CappersJungle.Com
TONS OF SERVICE PLAYS
POSTED INSIDE
TO REGISTER For the Forums;
Click LOG IN THE LEFT SIDE-- (then click CREATE NEW ACCOUNT)
Or click on the Become Client or Paid Access button above.
IF you need to reset or you forgot your password please write to have it reset.
#1 Ranked Handicapping Team!
Now able to accept
Visa, Master & Discover  by Phone!
Email us if you want a package

IF You need to contact us
WRITE TO This e-mail address is being protected from spambots. You need JavaScript enabled to view it
#1 Ranked Handicapping Team
CappersJungle.Com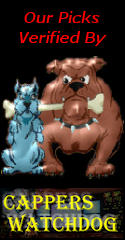 TO REGISTER For the Forums;
Click LOG IN THE LEFT SIDE-- (then click CREATE NEW ACCOUNT)
100+ FREE HANDICAPPING PLAYS INSIDE!
Who Better to follow?
Want to see what other Handicappers have FREE?
Then you are at the right place!